Game Description
Amy Recha Pristifana Bin Samion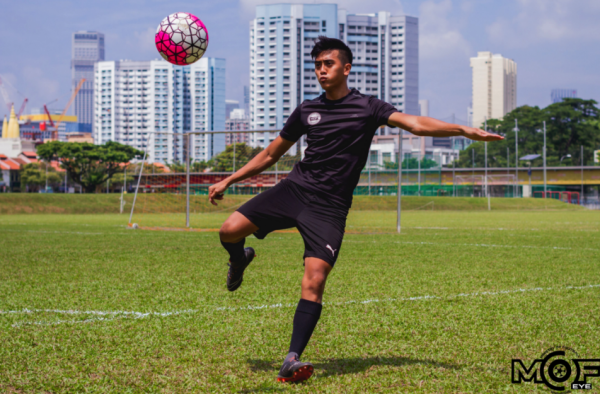 Age: 26
Date of Birth: May 13, 1992
Nationality: Singaporean
Current League: Singapore Premier League
League Level: First Tier, Professional
Current Club: Home United
Position(s): Winger
Height: 1.71m, 5 ft 7 in
Prefered Foot:  Right
Profile
Nimble and hardworking, Amy is a serious threat to opposition defenders. Amy never takes a holiday on the pitch, ever-readily chasing down and pressuring defenders untiringly. His speed and high workrate, combined with good finishing, makes him a lethal forward player.
In 2016, former professional footballer and current principal for ActiveSG Football Academy Aleksandar Duric displayed confidence in Amy Recha when it comes to representing Singapore in the AFF Suzuki Cup, claiming that "[Amy's] speed is a good weapon for Singapore". Duric has also described Amy as "something special".  When describing Amy, former Geylang International coach V. Kanan said "He [Amy] has speed, good finishing and an eye for goal, which is hard to find in Singapore."
Experience
– Top goal scorer for the Prime League in 2011.
– Made his debut in the S. League against Balestier Khalsa (now named Singapore Premier League) at the young age of 19 in 2011.
– Whizzed past 2 defenders to score his first S. League goal in his debut match.
– Made a total of 58 league appearances in the Singapore Premier League with a total of 6 goals.
– Represented Geylang International from 2011 to 2013 (24 Appearances) and from 2016 to 2017 (22 Appearances).
– Represented Young Lions (11 Appearances) from 2014 to 2015
– Representing Home United in 2018 (1 Appearance)
– Represented Singapore in the 2015 SEA Games at the age of 23.
– Made his debut in the AFC Cup in 2018 against Shan United, in a match where he made 2 shots (1 saved, 1 blocked)
Strengths
– Speed
– Finishing
– High workrate
Amy's Aspirations 
–  where does he want to further his career: Thailand, Indonesia or Malaysia.
– why he wants to further his career there: to challenge and test himself in another country
– what can he  do there: working hard and gaining  invaluable experience and exposure to improve as a player.
Instagram:   https://www.instagram.com/amyrecha/
If you are interested in the above talent, feel free to ask us any questions, we are more than happy to discuss.