My S.League career ended at 28
An insecure contract system meant Singaporean footballer Duncan Elias had to accept his exit at a young age and he shared with Goal's Ahmad Khan his bittersweet journey
EXCLUSIVE
By Ahmad Khan
I'm just bitter at how it ended. I would accept playing in a league where the money is low, but I just wanted it to end on my terms.
Those are the sentiments of former Geylang International defender Duncan Elias, who has undergone all possible trials and tribulations a professional footballer could have in Singapore. From battling his way to achieve his childhood dream before having his football journey in the S.League come to an abrupt end last year, the diminutive 28-year-old's story is riveting.
A promising youth career
Back when he was a kid, Duncan was already warned against pursuing football as a career.
"Everyone would say 'why waste your time, be someone where you can earn a lot of money'," Duncan recounted. "I wouldn't say I wanted to be a doctor or a lawyer; my mindset since young was to be a professional football player."
He started his football at the Nike Soccer School, which was then managed by Jita Singh. But the academy soon closed down when the Football Association of Singapore (FAS) started the Center Of Excellence (COE) program and he moved to Tampines Rovers. There, he became a 'true blue Tampines boy', playing for the Under-12s and rising up the ranks all the way to the Prime league level.
He was considered a high-profile up-and-comer in his youth, playing against the Under-23 side at only 19 years of age. His development was put to a sudden halt though when he got called up for National Service (NS) after he attained his diploma in Mass Communications at the Management Development Institute of Singapore (MDIS).
As luck would have it, Duncan was still somehow surrounded by football even when he was serving the nation.  He represented his division for the Inter-Unit games and had playing stints with the Singapore Armed Forces (now Warriors FC) and the Singapore Armed Forces Sports Association (SAFSA) in the Prime League.
But things turned for the worse when he landed awkwardly during a match with SAFSA, which put him out of action for close to a year. He was prepared to quit football and even completed his advanced diploma in that time, before the desire of playing football took over again.
"I was 22 or 23, which was the cut-off point for the Prime League and it was my last opportunity to make it as an S.League player," he said. "So the dream was back on and I made a decision to come back to Prime League."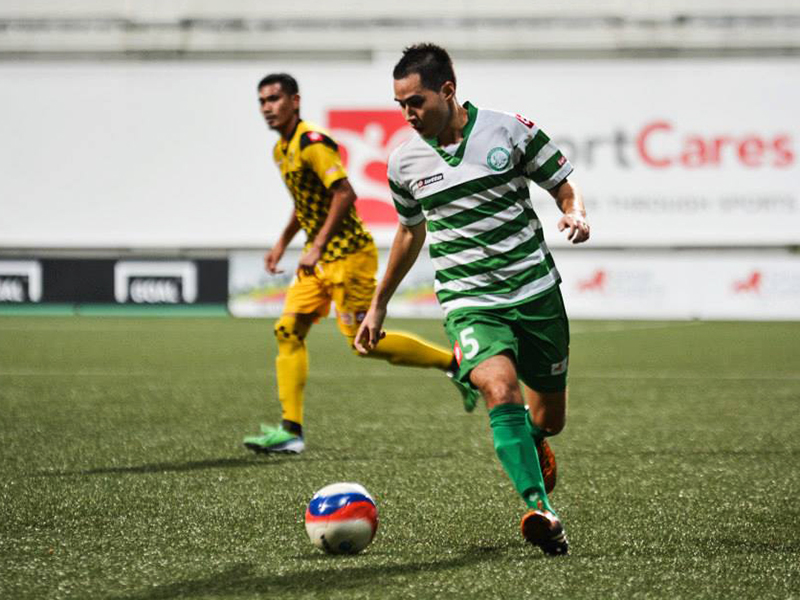 A natural left-back, Duncan, was highly regarded in his youth as a future star
He then went on trials with Sengkang Punggol (now Hougang United) despite not playing football in a year-and-a-half. Still, he was offered a Prime League contract, which paid him a measly $100 a month.
The left-back then slowly integrated into the senior team, making his S.League debut soon after that. He was offered a full S.League contract, still worth only $800 a month, at the end of the season and despite missing the majority of the following season through injury, he came back strongly in the season after that in 2010 and went on to play 32 out of 33 games that year. The only match he missed was due to suspension.
Things were looking good for Duncan, especially as his pay was eventually increased to $1,500 a month after a successful season with Hougang United. But the fairy tale did not last for long as he soon realised his playing days in Hougang were numbered after a match against Warriors FC, which was broadcast live on television.
"I had relatives coming over from overseas to watch the game too and I felt good as my form was coming back," Duncan recalled.
"But [the coach] took me out after 23 minutes. I wasn't having the best game, but nobody was having a good game. Warriors were pressuring us, so we resorted to playing long balls, which the coach didn't like.
"So he had to pick somebody to make a statement. It was a live game, my relatives were there, and it was a personal embarrassment for myself. He put his hand out but I didn't shake it and headed straight into the dressing room. I was so pissed off. From then on he never really played me again."
Somehow, he managed to sign for Woodlands Wellington after that and went on to become the vice-captain of the club. But his stay with the Rams didn't last beyond two seasons after his contract extension with the club turned sour.
Geylang International then offered him a contract in October 2012 that paid the same amount as he was getting at Woodlands, which was almost $2,500.
On hindsight, the decision to move to play for the Eagles was the beginning of the end for Duncan, as it eventually cost him his career.
It was an especially difficult season for Duncan as he felt unappreciated by the club and to a certain extent, mistreated. This, despite featuring in the first team regularly and putting in stoic performances.
From being asked to play when he wasn't fully fit, to being taken off on multiple occasions without any reason, the baffled player eventually knew his career with the club was at an end after the final match of the season.
"I wasn't even told that I was released," he said. "The coach just said 'good luck finding a club next year'; I guess that's his way of saying you are not retained. I kind of expected it, but at the back of your mind, you always hope he says something else."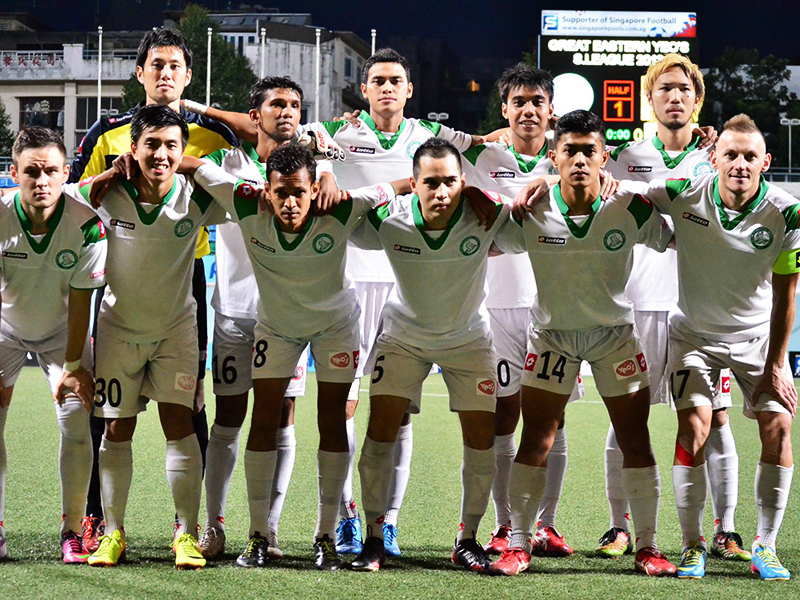 Duncan Elias (number 5) turning out for Geylang in the S.League in 2013
Forced retirement
Because local footballers barely have any representatives or agents, Duncan had to source out for a new club on his own.
"I tried to get an agent myself, but unless you are a national player, they won't entertain you," he remarked. "S.League players handle themselves, they call the clubs themselves, or they get referrals from players from the other clubs. There are no agents involved."
It soon became rather desperate for Duncan as he even started looking beyond the borders for a club, but nothing concrete transpired.
"I tried to keep myself fit in the off-season in the hope of getting a club, but it never materialised," he said. "At one point I was even going through the stages of denial. I was pissed off, and wanted to give up looking for a club. I felt I had to beg, borrow and steal to try and get a club. I even called coaches saying that I'm willing to take a pay cut. It tired me out.
"That's how it kind of ended, not on my terms like how I'd like to end."
Currently still only 28, Duncan has reluctantly accepted the hand forced upon him and walked away from the game after no clubs showed an interest in signing him.
The problem with one-year contracts
Duncan holds the common practice of offering footballers one-year contracts to be responsible for his predicament.
According to him, because the majority of S.League players are on a one-year contract, there will always be a scramble to find out where they will end up the following season come September or October, or whether they would even be signed by any club for that matter.
Shukor Zailan, a player who has two caps for the Singapore national team, did not get his contract renewed by Warriors at the end of last season, and neither did any other club move in to sign him. The same unfortunate situation befell former LionsXII midfielder Taufiq Rahmat and Woodlands Wellington's Ridhwan Osman, who were also released last year and decided to retire from the game.
"The problem with one-year contracts is that when you sign your contract for a club, you're already on the lookout to see where you're going to sign your next contract," Duncan pointed out, on the uncertainty this arrangement breeds.
"Clubs can definitely offer bigger contracts. It's not a rule (offering one-year contracts), just a common practice. In fact, some clubs give only 11-month contracts. They don't want to pay you in December because you are not doing anything for the club in that month! How can you give your all to the club, knowing there's no guarantee you'll be at the club next season?"
The lack of money being pumped into the sport, which in a way explains the rationale for clubs to offer one-year contracts, was something that Duncan lamented as well as he discussed the wider issues troubling Singapore football.
"What is going on is, clubs have a budget in place, and there is nowhere else more prominent than Singapore where the words 'budget' and 'football' come in the same sentence," he said.
"The pay isn't that great. An average player earns $2,000 to $3,000 a month. A top player maybe gets $3,000 to $4,000, while the rest of the budget goes to the foreigners. The way I see it, you need to pump out money to make more money. If you put in so little money, what do you expect?"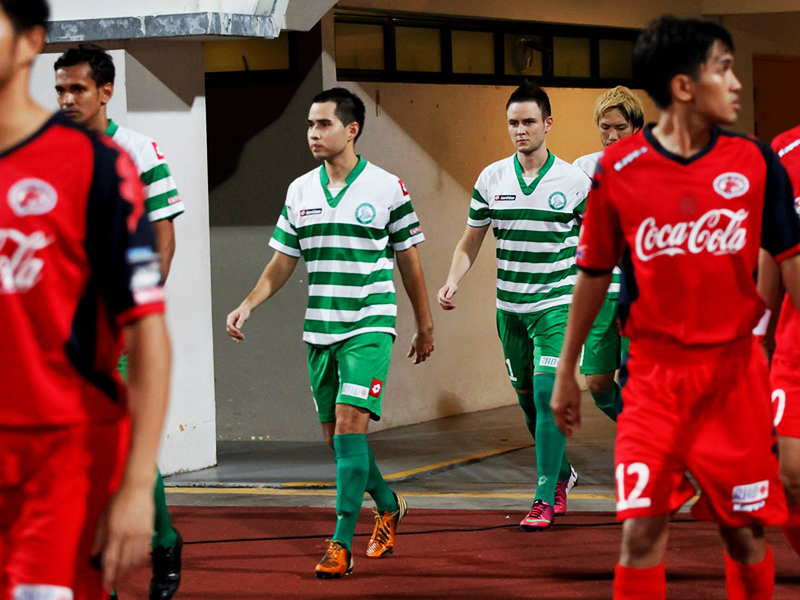 Despite being forced to leave the game, Duncan holds no regrets

Duncan believes that not securing players on a more permanent arrangement also ultimately affects the level of fan support that clubs receive, saying: "You want fans to identify with the league, you want fans to identify with the team, but if the team is not the same every season, and there is a high turnover of players every single time, then how are you going to relate to the team?"
Looking forward
With all that said, Duncan is looking at greener pastures in his post-football career, even though he feels he still has a lot to offer playing the sport. He still reminisces about playing football at the highest level, especially when recalling fans singing his name, particularly during his time with Hougang United.
Right now, however, he considers himself semi-retired and would not rule out a return to playing football should the opportunity arise, but is currently focusing his time and effort with Red Card Sports Radio as a presenter.
"I am semi-retired but I'm open to anything," he told Goal when asked of his status. "There is always hope, but I'm not constantly looking for a club. I've called enough for them to know my number."
"I'm starting a career in radio. It's something I've wanted to do. If you can't play football, then you can talk about football. This would be my dream job five years from now. It's something I love to do, but I'd want to end my career on my own terms. But it just so happens that life works in funny ways."
Despite the bitterness of having to forcibly walk from the game at a young age, Duncan holds no ill-feelings or regrets over his decision to pursue a career in football in the first place.
"I'm proud to say I'm a professional footballer," he declared. "I lived my dream, I played at the highest level in Singapore, and I'm happy of that fact."
Source:
https://www.goal.com/en-sg/news/3880/singapore/2014/03/09/4669102/my-sleague-career-ended-at-28